Avizo Experts-Conseils, a trusted partner
For over 30 years, the professionals at Avizo Consulting have offered their clients a wide range of services in environment, engineering and construction of infrastructures.
They work day after day to protect the natural environments and ensure the sustainability of municipal, industrial and commercial infrastructures.
All over the province of Quebec
With its five offices in the province, Avizo Consulting offers an impeccable service level to municipalities, commercial and industrial companies and government works providers in Quebec, Eastern Ontario, New England and the Maritimes.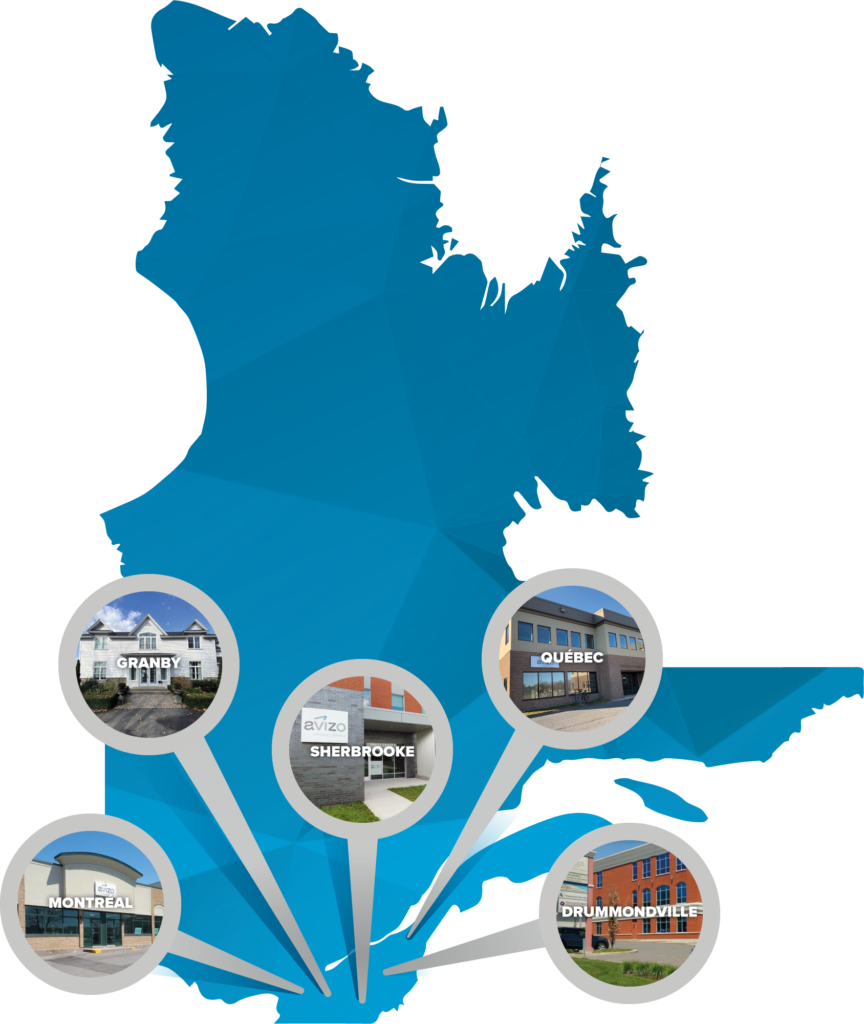 Montreal | Quebec | Sherbrooke | Drummondville | Granby
Our teams use the AGILE methodology
In order to offer its customers adapted services in a constantly changing environment, Avizo Consulting has implemented an AGILE management method.
This management model gives the teams at Avizo Consulting the necessary leeway to accomplish flawlwssly the projexts they're assigned to. The AGILE management methodology is based on a paradigm shift in the daily activities of our teams.
Paradigm shift in the management of Avizo Consulting's project teams
Our teams work differently. We took a new approach that eliminated a lot of friction. AGILE management allows everyone to evolve and everyone to contribute to the success of Avizo Experts-Conseils.
From confinement in a departmental silo, we move on to sharing common objectives in teams managed in AGILE mode
From hierarchical relationships, we are shifting to relationships between individuals
From control by managers, we are shifting to empowerment of the teams
From over planning, we are shifting to experimentation and continuous improvement
From a hierarchical structure with several levels, we are shifting to a horizontal structure
From the hasty fixing of the concepts and objectives of the projects, we shifting to a continuous validation with our clients
Using a push-pull approach
Avizo Consulting has implemented a simple and flexible business model centered on the fulfillment of its clients' mandates by autonomous teams at the best price, time and quality.
For any questions about our working method, consult a member of the Strategy and organizational development team.
Our teams take on diversified projects
No matter the stage your project is at, the members of our teams can assist you. From the preliminary study to the execution and supervision of the work our professionals can provide adapted solutions for your project.
Contact our professionals now to get a quote.
The history of Avizo Consulting
The merger of Environnement ESA (1992) and Groupe Poly-Tech (1993) created Avizo Consulting in 2012.
In 1997, the Laval office was opened. In 2005, the Granby office opened its doors and the Drummondville office followed closely in 2007.
2014 saw the opening of the Longueuil office and the founding of Axio environnement, a subsidiary of Avizo Consulting.
In 2015, the new head office of Avizo Consulting was inaugurated in Sherbrooke.
In 2017, as we celebrate the 25th anniversary of Avizo Consulting, the Montreal area offices are consolidated in Saint-Laurent. Avizo Consulting acquires the engineering activities of Nordikeau and opens an office in Quebec.
In 2019, a new company was founded, Avizo Construction, specializing in the construction and optimization of wastewater treatment and waterfront development.
In 2020, Axio environnement merges with Avizo Consulting.
And in 2021, Avizo Consulting is setting up a new organizational structure based on multidisciplinary teams using an AGILE methodology.
If you want to be part of one of our multidisciplinary teams and create the future of Avizo Experts-Conseils, visit our careers page.
Mission, vision and values
What is the mission of Avizo Consulting?
We forge with our customers and our partners relationships of trust with their partners and customers by measuring and improving their environmental performance through concrete contributions and by developing their infrastructures.
What is Avizo Consulting's vision?
We want to become the reference in Quebec for clients looking for integrated solutions ranging from environmental measurement to infrastructure development.
What are Avizo Consulting's values?
Building on innovation: We are seeking every technological solutions that can improve our work. We use new ways of doing things to make the delivery of our services more efficient.
Remaining agile: We are always ready to adjust to situations and have an organizational structure that allows us to do so.
Behaving rigorously: We operate in the fields of engineering and environmental sciences, our clients expect us to maintain high standards of quality and competence.
Promoting health and safety: We are involved in many high-risk activities. We must prioritize safety.
Where does the name Avizo Consulting comes from?
Avizo Consulting comes from the word aviso which designates a fast and light ship used for diversified tasks.
The founders, Charles Duguay, Germain Thibault, Marc Raby and Pierre Rouleau, wanted to create an organization that would support its customers with their water related projects, from A to Z.